FactorFive
FACTORFIVE is a new type of scientific skincare - one that was created with as much integrity as it was innovation. Using the science of adipose derived human stem cells, FACTORFIVE has been proven to:
Increase collagen, hyaluronic acid, and proteins associated with healthy, youthful skin, skin remodeling, and healing.

Reverse the damaging effects of UV radiation, fight wrinkle formation, and decrease expression of scar formation.

Reduce healing time after laser resurfacing and catalyze production of collagen and elastin.

Fight the most common signs of aging: wrinkles, sun spots, elasticity, texture, and tone.
CooLifting
Because BEAUTY Should Be Timeless.
CooLifting is a facial that leaves skin looking and feeling tighter and firmer (*results may vary)
Only system that combines a proprietary HA serum and CO2 spray

Works as a stand alone facial or can be combined with other treatments for great results
CooLifting works by using a carboxy spray to deliver a hydrating serum to problem areas of the skin. CooLifting can be done in just a few minutes and there is no downtime after your session. There is no pain with CooLifting and you can resume your normal skin regimen the next day.

View CooLifting before/after photos on our .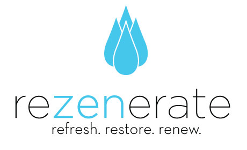 Rezenerate
Reduce fine lines, wrinkles and blemishes with one of the safest and least invasive beauty devices on the market, the Rezenerate Wand. The effective, pain-free treatment will leave your skin radiant and ready for action!
Increase collagen production

Great for anti-aging and acne

Evens out oily-dry skin

Can be safely used around the eye area and on lips

No downtime